Hydraulic
Flip-up
Barrier
The barriers can be rose automatically by push button and recessed into floor when not in use.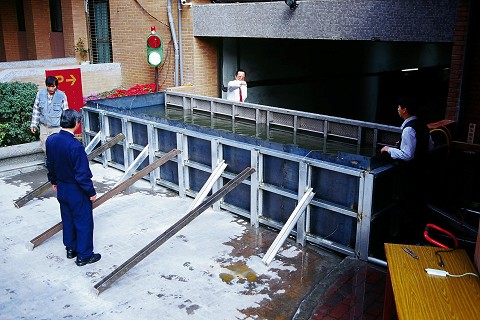 Design :
■Drive system : Hydraulic power
■Water retaining height : 100cm

■Hydraulic lift arms : 3 uints
Hydrostatic test
Materials :
■Panel : Hot-dip Zinc-Coated Steel Sheets.
■Finish : Anticorrosion coating.
■Barrier raising / lowering warning buzzer which will play a warning sound .
■An optional infrared door sensor features a safety zone in the threshold.
■An optional water level sensor: The flood barrier is stored below the land surface when not in motion (under its own power) with a water level sensor to automatically lift up to stop flood water entering .